Wednesday, Oct. 19, the district hosted the first of two special luncheons each year for residents older than 55. About 40 community members gathered for lunch, updates from the Superintendent, Dr. Bernard DuBray, and a presentation from Hannah Dyksen, FZSD Instructional Coach for Elementary Technology. Dyksen shared a few of the ways students grades K - 5 are learning how to make good choices online and be good digital citizens.
Attendees also had the chance to ask questions of the district administrators in attendance. Some wanted to know where they could learn more about digital citizenship. Others were curious about how the district will improve teacher pay and work through other staffing shortages. There were also questions regarding district workforce development programs that provide students career pathways and about the transition underway as Dr. DuBray completes his final year as Superintendent and Dr. Paul Myers, Superintendent-Elect, assumes the role.
Soup's On! is a great way for Fort Zumwalt residents who might not otherwise be connected with their schools to hear from district leadership, ask questions in a small group or one-on-one setting, better see their tax dollars at work and enjoy a delicious lunch provided by FZ Student Nutrition Services. The event is held twice each year. The next Soup's On! for residents 55 and older is scheduled for March 29. RSVPs are greatly appreciated to help us ensure adequate seating and plenty for lunch. Email Laura Wagner at lwagner.fz.k12.mo.us or call 636-240-2072.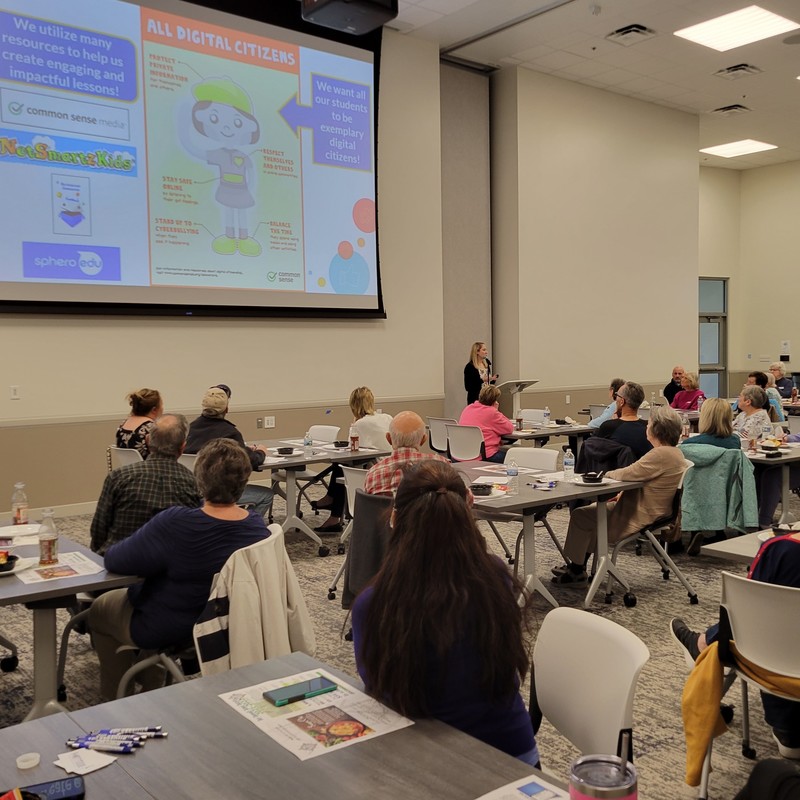 Hannah Dyksen, Instructional Coach for Elementary Technology, outlines some of the lessons teachers use to help students K - 5 grow to be responsible digital citizens.